GPT and the Saudi National Guard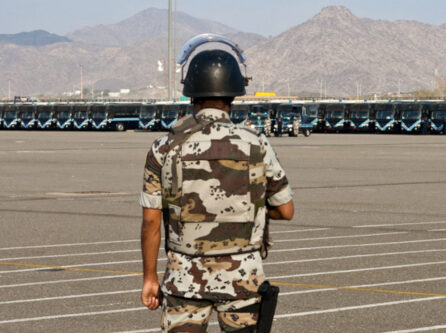 ---
Introduction
contents
If the bribery that is alleged to have taken place in the GBP 2 billion deal won by GPT Special Project Management to supply communications equipment to the Saudi Arabian National Guard (the SANGCOM deal) is fairly routine, the story of how it came to light is not. In 2010, a GPT Programme Director in Saudi Arabia, Lt. Col. (retd.) Ian Foxley, stumbled upon a chain of emails between a GPT financial controller, Michael Paterson, and his superiors, raising concerns about improper payments and gifts—concerns that were consistently dismissed at all levels of management. When Foxley brought the information to the UK Ministry of Defence (MoD) team working on the SANGCOM project, superiors at GPT threatened him with arrest for theft of company documents. He took refuge with friends in the MoD, who drove him to the airport that night to escape Saudi Arabia. The information provided by Foxley triggered a Serious Fraud Office investigation that is still ongoing—though it remains in doubt whether the UK Attorney General will allow charges to be brought, bringing further embarrassment to the UK-Saudi arms trading relationship.
---
Case details
contents
Seller country
:
United Kingdom
Buyer country
:
Saudi Arabia
Goods category
:
Services, Electronics
Equipment sold
:
Communications and computer equipment and support, consulting, and training.
Deal value
:
GBP 2 billion
Sum involved in corruption
:
At least GBP 14.9 million transferred to foreign accounts (GBP 26 million per year paid out for unexplained "bought in services")
Outcome status
:
Out of Court Settlement, Trial Closed - Convictions, Legal Investigation Ongoing, Mixed
---
Dramatis Personae
contents
Michael Paterson – GPT Financial Controller; whistleblower.

Lt. Col. (retd.) Ian Foxley – retired UK signals officer, GPT Programme Director (June-December 2010); whistleblower.

Malcolm Peto – CEO of Paradigm Services, immediate parent company of GPT.

Jeff Cook – GPT Managing Director. Charged with corruption by the UK Serious Fraud Office.

Philip Troyas – Astrium/Airbus Space & Defense Compliance Officer.

Major General Mohammed bin Khalid al-Nahid – Commander of the Saudi National Guard, recipient of a luxury car from GPT, and owner of a villa for which GPT paid five years of up-front rent.
---
Summary of Corruption Allegations
contents
Whistleblowers Michael Paterson, GPT's Financial Controller from 2007 to 2010, and Lt. Col. (retd.) Ian Foxley, who was GPT's Programme Director from June to December 2010, uncovered evidence of irregular payments for "bought-in services" amounting to GBP 14.9 million between 2007 and 2010. These funds were channeled through two Cayman Islands-registered companies, Simec and Duranton, which they suspected were intended for bribes to Saudi decision-makers in relation to the SANGCOM contract. No legitimate services appear to have been provided by these companies.
In addition, GPT supplied luxury vehicles worth GBP 216,350 to staff in the Saudi National Guard, including the general connected with the project. They also paid this general GBP 278,000 for a five-year lease of a villa belonging to him, paid up-front.
Beyond these specific sums, Paterson and Foxley noted that in total GPT was paying GBP 26 million a year for "bought-in services" under the SANGCOM deals, up to 16% of the contract's value.
Declassified MoD documents from the 1970s, discovered by author Nicholas Gilby, show that, for the first SANGCOM contract in 1978, worth GBP 400 million, a total of 15% of the contract's value (GBP 60 million) was to be paid in "commissions" through various intermediaries. The head of defense sales at the MoD at the time, Lester Suffield, commented in a draft memo that the commissions "although described as 'technical consultancy' amount in practice to the exertion of influence to sway decisions in favour of the client."
---
Timeline
contents
1978

The SANGCOM program for UK communications support to the Saudi National Guard began with a Memorandum of Understanding, which led to a series of government-to-government agreements. he UK Ministry of Defence (MoD) has been directly involved in SANGCOM from the beginning, and has a permanent team of 50-70 military and civilian personnel in Saudi Arabia working on the project, providing procurement and training support, and overseeing the contract.

1994

GPT Special Project Management was established to act as a private sector prime contractor to the MOD for the project.

2007

Initially, GPT was a subsidiary of GEC Marconi, but became part of EADS (now Airbus). The UK MoD is its sole customer, and SANGCOM its sole work. Thus, the MoD and GPT essentially act as the joint providers of SANGCOM, and their Saudi teams are closely intertwined and work from the same offices. The total value of the SANGCOM contracts agreed from 1978 to the present is estimated by whistleblower Ian Foxley at GBP 5 billion.

Feb 2010

The latest phase of the program was set up in a agreement, the LOA3 ("Letter of Offer and Acceptance 3") Phase 3, and provides for the further modernization of the National Guard's communications and computer equipment at a price of GBP 1.96 billion over ten years.
---
Investigation Outcomes
contents
2007

GPT Financial Controller Michael Paterson first became concerned about unexplained payments for bought-in services shortly after his appointment. He raised his concerns first with his immediate superiors in GPT, then subsequently with compliance officers and other senior figures in GPT's parent companies: its immediate parent Paradigm Services Ltd., then EADS Astrium (now part of Airbus Defence), and subsequently Airbus Group. His concerns were ignored by his superiors, and Paterson was severely reprimanded for his objections by Paradigm CEO Malcolm Peto. Among those signing off on invoice payments to Simec and Duranton, as discovered by Paterson, were Peto and GPT managing director Jeff Cook.

2010

Internal auditors were sent by EADS to Riyadh, but Paterson was not allowed to meet with them or give them documents. While some of his correspondents at higher levels of EADS appeared responsive, no action was taken to investigate or halt the suspect payments. Paterson was threatened with disciplinary action, and even physical harm, by GPT compliance officer Philip Troyas. Paterson secretly recorded in 2009 a conversation with Troyas, who essentially admitted to and justified the paying of bribes to Saudi leaders.

Nov 2010

Paterson was placed on "gardening leave" (paid leave) prior to being moved to another post. However, by this time Foxley, recently appointed as program director for LOA3 Phase 3, had also started questioning the payments for unexplained 'bought-in services,' and met with Paterson while the latter was on leave. Foxley persuaded a GPT IT employee to give him access to Paterson's emails, discovering the long chain of communication between Paterson and various levels of the EADS hierarchy, and brought the matter to the attention of the head of delivery of the MoD SANGCOM team. Foxley was then summoned to a meeting with GPT Managing Director Jeff Cook, who threatened him with arrest for "stealing company property." Foxley took refuge with colleagues in the SANGCOM military team, one of whom drove him to Riyadh airport that night to escape the country. On his return to the UK, Foxley submitted his information to the Serious Fraud Office (SFO).

May 2011

The SFO revealed that they were looking into allegations against GPT.

Aug 2012

The SFO formally launched a criminal investigation.

Jul 2014

They arrested and questioned six individuals in connection with the case, including two current and two former GPT employees.

Feb 2017

In February 2017 they informed two of those arrested, Laurence Bryant, former CFO of GPT, and Richard Moody, former commercial director, that charges were no longer being pursued against them.

Jan 2020

Airbus entered into a Deferred Prosecution Agreement with the SFO, agreeing to pay EUR 991 million in fines and costs to the UK. This agreement, however, did not preclude further legal action related to GPT.

Jul 2020

The SFO brought charges against GPT and a former executive: Jeffrey Cook, a former managing director. Two employees of contractors connected to the case, John Mason and Terence Dorothy, also face charges. Cook and Mason were charged with corruption related to the GPT contracts, while Cook also faces an additional charge of misconduct in public office; Dorothy allegedly abetted Cook in the latter offense. An important question which may affect the possibility of a successful prosecution, is the extent to which the MoD knew of and/or approved the suspect payments for 'bought-in services.' The claim that GPT employees were acting with the knowledge and consent of the UK government could potentially be used as a defense against corruption charges, although this is legally uncertain.

28 Apr 2021

GPT pleaded guilty to corruption before the British Southwark Crown Court. The company was ordered to pay a confiscation order of £20,603,000, fine of £7,521,920, and costs of £2,200,000.

May 2022

In May 2022, two British executives involved in the corruption allegations were brought to trial. The jury was dismissed abruptly on July 14, 2022, and a new trial is possible in the future.
---
References
contents
World Peace Foundation - Compendium of Arms Trade Corruption, https://sites.tufts.edu/corruptarmsdeals/gpt-and-the-saudi-national-guard/

"GPT pleads guilty to corruption", SFO, April 28th, 2021, https://www.sfo.gov.uk/2021/04/28/gpt-pleads-guilty-to-corruption/

Susan Hawley, "State sponsored bribery? Airbus's Saudi saga and the UK's Ministry of Defence", Corruption Watch, October 2017, https://shadowworldinvestigations.org/projects-and-publications/challenging-the-arms-trade-[…]ry-airbuss-saudi-saga-and-the-uks-ministry-of-defence/

Rupert Neate, "SFO probes EADS defence contract with Saudi Arabia," The Telegraph (online), May 29, 2011, https://www.telegraph.co.uk/finance/financial-crime/8545282/SFO-probes-EADS-defence-contract-with-Saudi-Arabia.html.

Julia Werdiger, "Britain Investigates Bribery Charges Against EADS Unit in Saudi Deal," The New York Times (online), May 31, 2011, https://www.nytimes.com/2011/06/01/business/global/01eads.html.

Nicholas Gilby, Deception in High Places: A History of Bribery in Britain's Arms Trade (London: Pluto Press, 2013).